Conversion:
BraunAbility Toyota Rampvan Xi
Condition:
New / New
Exterior:
Wind Chill Pearl
Trim:
Platinum 7-Passenger
Interior:
Noble Brown, leather
Economy:
36 hwy. / 36 city
Price
$99,229
Payments As Low As
$1,641
per month
Trade In Your Current Vehicle
We accept vehicle trades of all kinds, including trades on non-mobility vehicles. Whether your current vehicle is a standard vehicle or wheelchair accessible, we will take it in on trade.
Vehicle Options
Keyless Ignition
Power Tilt And Telescopic Steering Wheel
Audio And Cruise Controls On Steering Wheel
Electric Power Steering
Front, Side, And Rear View Camera
Front And Rear Parking Sensors
Wireless Charging
Adaptive Cruise Control
Universal Remote Transmitter (for Garage Door, Security System, Etc.)
Front, Rear And 3rd Row Cupholders
Front And Rear Door Pockets
Overhead Console With Storage
Front Seatback Storage
Leather Steering Wheel
Heated Steering Wheel
Four Zone Climate Control
Rear Ventilation Ducts With Fan Control
Interior Air Filtration
Dual Illuminating Vanity Mirrors
Digital Rearview Mirror
Electrochromatic Inside Rearview Mirror
4 One-Touch Power Windows
Hands-Free Entry
Reverse Tilt Passenger Only Provides Curb View When Vehicle In Reverse
Heated Mirrors
Trip Computer
Compass
External Temperature Display
Clock
9.0" Infotainment Display Size
AM/FM Stereo
JBL Premium Brand Speakers
12 Total Speakers
1 Subwoofer(s)
Android Auto/Apple CarPlay
USB Connection
USB With External Media Control
Satellite Radio Satellite Radio
3 Months Of Provided Satellite Radio Service
Four-Wheel Independent Suspension
Front And Rear Stabilizer Bar
Blind Spot And Lane Departure Warnings Accident Avoidance System
Lane Keep Assist
Rear Cross Traffic Alert
Pre-Collision Safety System
Post-Collision Safety System
Dual Front And Dual Rear Side-Mounted Airbags
Front, Rear And Third Row Head Airbags
Passenger Airbag Occupant Sensing Deactivation
Stability Control
Traction Control
Child Seat Anchors
Rear Door Child Safety Locks
4-Wheel ABS
Front And Rear Ventilated Disc Brakes
Emergency Braking Assist
Tire Pressure Monitoring
Dusk Sensing Headlamps
LED Headlamp
Daytime Running Lights
Front Fog/driving Lights
2 Front Headrests
Height Adjustable Headrests
2 Rear Headrests
Rear Height Adjustable Headrests
Remote Anti-Theft Alarm System
Engine Immobilizer
We do our best to ensure vehicle information including options are accurate, however there are times when vehicle information and options may not be accurate. Always verify the vehicle options, year, make, model, miles, trim, conversion and price prior to purchase. We reserve the right to change this page without notice.
Toyota Rampvan Xi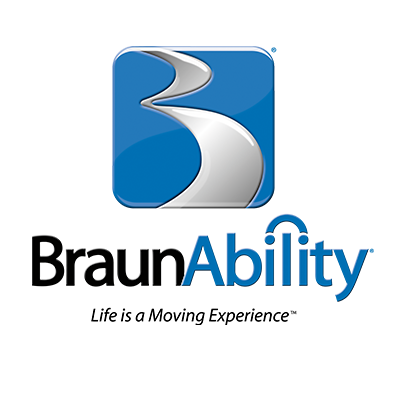 First Class Import
Freedom of choice—that's what the new Toyota Rampvan Xi adds to the already diverse product line-up. BraunAbility's infloor ramp option stows away neatly under the floor, allowing obstacle-free entry and exit for ambulatory passengers. The easy ramp angle and added side rail security makes accessibility a breeze. Add to that the sleek new and improved step and roll seating, and this is another first class mobility option on a world-class chassis.
Quiet Drive® On the Rampvan Xi
Quiet Drive® is a groundbreaking noise reduction technology offered exclusively on all BraunAbility® wheelchair vans. Quiet Drive® uses advanced acoustic techniques to identify and then block noise from entering the vehicle cabin, making the driving experience quieter and more enjoyable.
Auto Door
The Rampvan Xi wheelchair van's sliding door opens reliably at the touch of a button. This feature can be activated with the standard keychain remote, or with one of the interior control switches.
Auto Ramp
The lightweight aluminum in-floor ramp extends and retracts smoothly to allow easy access to the interior for wheelchairs and scooters. A durable, non-skid powder-coated finish ensures superior traction, and the slotted surface helps to prevent the chair from tracking debris into the Rampvan Xi handicap van. In the event of a power failure, the ramp can easily be operated manually.
Auto Kneel
To make entering and exiting even easier, BraunAbility® handicap vans feature an integrated kneeling system. An electric actuator lowers the rear suspension while the door opens, which reduces the slope of the auto ramp.
Rear Bench Foot Rest
With a molded flush design, the new footrest for the rear bench seat looks and functions better than ever! As always, it folds away easily when not in use.
Remote Control
The door, ramp, and kneeling functions can be activated by the van's original key remote control. Just press the passenger sliding door button twice, and everything operates automatically.
Lowered Floor
From the firewall to the rear axle, this wheelchair van's floor is 12" lower than those of conventional minivans. With a choice of seating positions, wheelchair users can choose to ride in their chairs and enjoy the view.
Removable Seating
For those who wish to ride up front or even drive from a wheelchair, BraunAbility® makes it easy: simply unlock the seat base and roll the entire seat out of the handicap van. The seats can be reinstalled into the Rampvan Xi just as easily when needed.
Wheelchair Tie Downs
Each wheelchair van includes a standard floor-track and belt system that secures the wheelchair for transit. An optional retractable belt system, pictured at left, is a versatile and convenient option. Independent users can even elect to have an automatic tie-down installed. Due to the wide variety of wheelchairs and tie-down systems available, we recommend that you check with your local dealer to determine which system will work best for you and your handicapped van.
Materials/Manufacturing Process
Added Interior Panels
ABS OEM Grade Color Matched
Electronics Control
Smart Box Micro Controller
Factory Original Wiring / No Splices
Floor Covering
OEM Grade Carpet - Special Order Hard Surface
Re-Use Factory Power Door
General Information
Added Headroom Acquired Via
Availability
Typically In-Stock Locally
Available As Certified Pre-Owned
Maintains Factory Chassis Warranty
One Touch Door/Ramp Operation
Qualifies For Mobility Rebate
Ramp Drive
Electric Motor With Gearbox
Ship Existing Vehicle For Upfit
Yes, Certain Year/Trim/Options Levels
Transfer From Wheelchair Required
Travel Solo/Without Attendent
Dimensions
Door Opening Height (Inches)
Door Opening Width (Inches)
Height At Center Of Van (Inches)
Lowered Floor Length (Inches)
Min. Garage Opening Height
Capacities
Features and Benefits
Full Recline Front Passenger Seat
Removeable Seats Mechanics
Compliance Standards
Fully Meets NHTSA Regulations
Safety
Service and Support
Service Center Type
Factory Certified Mobility Dealers
---
We do our best to ensure vehicle information including options are accurate, however there are times when vehicle information and options may not be accurate. Always verify the vehicle options, year, make, model, miles, trim, conversion and price prior to purchase. We reserve the right to change this page without notice.