Conversion:
BraunAbility Dodge Entervan II
Exterior:
Inferno Red Tinted Pearlcoat
Interior:
Medium Slate Gray
Economy:
23 mpg hwy. / 16 mpg city
Price
$12,350
Payments As Low As
$204
per month
Trade In Your Current Vehicle
We accept vehicle trades of all kinds, including trades on non-mobility vehicles. Whether your current vehicle is a standard vehicle or wheelchair accessible, we will take it in on trade.
Vehicle Options
Audio Controls On Steering Wheel
Dual Illuminating Vanity Mirrors
Dual Zone Air Conditioning
Cargo Area Light
Cruise Control
Electrochromatic Inside Rearview Mirror
Front And Rear Reading Lights
Front Door Pockets
Interior Air Filtration
Leather Steering Wheel
Overhead Console With Storage
Power Steering
Tilt-Adjustable Steering Wheel
Universal Remote Transmitter (for Garage Door, Security System, Etc.)
1 One-Touch Power Windows
Heated Mirrors
Power Mirrors
Remote Keyless Power Door Locks
Clock
Low Fuel Level Warning
Tachometer
Trip Computer
6 Total Speakers
AM/FM Stereo
Front Independent Suspension
Modified MacPherson Strut Front Suspension
Solid Axle Rear Suspension
2 Rear Headrests
4-Wheel ABS
Rear Door Child Safety Locks
Rear Height Adjustable Headrests
Ventilated Front Disc / Solid Rear Disc Brakes
Auto Delay Off Headlamps
Child Seat Anchors
Dusk Sensing Headlamps
Electronic Brakeforce Distribution
Engine Immobilizer
Front Fog/driving Lights
Front Seatbelt Pretensioners
Traction Control
We do our best to ensure vehicle information including options are accurate, however there are times when vehicle information and options may not be accurate. Always verify the vehicle options, year, make, model, miles, trim, conversion and price prior to purchase. We reserve the right to change this page without notice.
Dodge Entervan II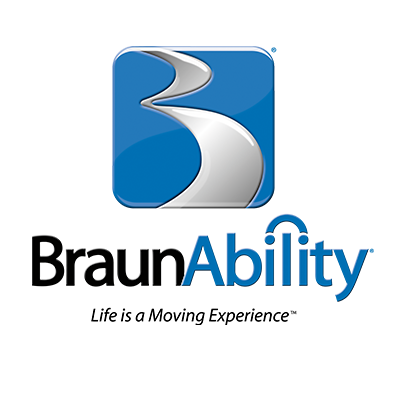 BraunAbility® Entervan Side-Entry Wheelchair Van
BraunAbility® has been building the Entervan for over 20 years. This van was designed by Ralph Braun, who is in a wheelchair himself and has influenced the advancement of this technology from the very beginning, over 30 years ago, to today. At the push of the factory remote, the Entervan will open the power door, deploy the ramp, and kneel the rear suspension to reduce the ramp slope for safe entry. Lowering the floor 10" allows wheelchair users who are 52.5" tall to have easy access into the Entervan. When BraunAbility® lowers the floor on the Entervan, the driver and passenger seats become quick release capable and are placed on rolling seat bases, making them easy and safe to remove or reinstall as needed. As a result, the BraunAbility® Entervan can support users who choose to drive from a wheelchair or ride in the front passenger position with the best view. BraunAbility's spacious interior, paired with refined luxury features like Quiet Drive®, which is designed to reduce road noise, is what makes this the most desirable and reliable wheelchair van in the world.
Quiet Drive® in the BraunAbility® Entervan
This exclusive advanced noise canceling technology can be found in every BraunAbility® Entervan. Quiet Drive® uses acoustic techniques to identify road noise and prevent noise from entering the vehicle. The Quiet Drive® technology is especially appreciated at highway speeds, particularly if your current wheelchair van is not so quiet. Regain the ability to have conversations with passengers in the Entervan.
BraunAbility® Entervan—Automatic Sliding Door
The BraunAbility® Entervan's OEM power door opens with the push of a button on the factory remote. Knowing that maintaining the original power door from the factory would create the most reliable power door in the industry, BraunAbility® developed a software called the GateWay Module, which is a plug and play system that can communicate with factory electronics. The BraunAbility® Entervan continues to lead the mobility industry in every area from technology, quality, and reliability to the best resale value of any wheelchair conversion.
BraunAbility® Entervan—Power Foldout Ramp
Simply push the factory remote to activate the power door, power ramp, and auto kneel. The ramp is built from durable aluminum capable of supporting 800 pounds. This durable powder-coated ramp has a non-skid finish for increased traction, but also matches the rest of the interior colors. As with the power door, the power ramp communicates with factory electronics using the sophisticated GateWay Module. Having this technology in every BraunAbility® Entervan is one of the many reasons why it is the most reliable wheelchair van available today. Because loss of power is possible in any vehicle, the BraunAbility® Entervan ramp can be operated manually with little effort in emergency situations by simply pushing out on the ramp.
Entervan Auto Kneel
Auto kneel is a standard feature on all BraunAbility® Entervans. Lowering the passenger rear suspension with an actuator will reduce the ramp angle for easy loading and unloading. This feature is completely integrated into the wheelchair van opening process, so when you activate the door and ramp, the van will automatically kneel down. Because many of our customers live in the Midwest, BraunAbility® has enclosed the actuator internally, making for long lasting dependability.
BraunAbility® Entervan Lowered Floor
Lowering the floor from the firewall to the rear axle is a skill BraunAbility® has developed with over 20 years of experience. Manufacturing many components in house ensures that all BraunAbility® Entervan wheelchair conversions maintain the highest quality. Building the BraunAbility® Entervan with a floor that is 10" lower than the conventional minivan floor allows passengers or a driver who is 52.5" tall in a wheelchair or scooter to remain safe when entering the BraunAbility® Entervan.
Removable Seating
For those who wish to ride up front or even drive from a wheelchair, BraunAbility® makes it easy: simply unlock the seat base and roll the entire seat out of the handicap van. The seats can be reinstalled into the Entervan just as easily when needed.
Materials/Manufacturing Process
Added Interior Panels
ABS OEM Grade Color Matched
Electronics Control
Smart Box Micro Controller
Factory Original Wiring / No Splices
Floor Covering
OEM Grade Carpet - Special Order Hard Surface
Re-Use Factory Power Door
General Information
Added Headroom Acquired Via
Availability
Typically In-Stock Locally
Available As Certified Pre-Owned
Maintains Factory Chassis Warranty
One Touch Door/Ramp Operation
Qualifies For Mobility Rebate
Ramp Drive
Electric Motor With Gearbox
Ship Existing Vehicle For Upfit
Yes, Certain Year/Trim/Options Levels
Transfer From Wheelchair Required
Travel Solo/Without Attendent
Dimensions
Door Opening Height (Inches)
Door Opening Width (Inches)
Height At Center Of Van (Inches)
Lowered Floor Length (Inches)
Min. Garage Opening Height
Capacities
Features and Benefits
Full Recline Front Passenger Seat
Removeable Seats Mechanics
Compliance Standards
Fully Meets NHTSA Regulations
Safety
Service and Support
Service Center Type
Factory Certified Mobility Dealers
---
We do our best to ensure vehicle information including options are accurate, however there are times when vehicle information and options may not be accurate. Always verify the vehicle options, year, make, model, miles, trim, conversion and price prior to purchase. We reserve the right to change this page without notice.